Curcumelli: Name of a noble Ionian Greek family.
Let's travel in time, back in the year 1864. The Greek state flag is finally waving over the Fortress of Corfu and the Ionian Islands until then under British occupation are united with the rest of Greece. Sir Demetrio Curcumelli, the Regent of Corfu and an ancestor of the current Curcumelli family, proudly hands over the Ionian Islands to King George I. A historic moment that will illuminate the course of the Curcumelli family over the years to come. The Curcumelli family tree goes, however, further back to the 1490's with the settlement of the family on the island of Kefalonia in an area named thereafter Curcumellata.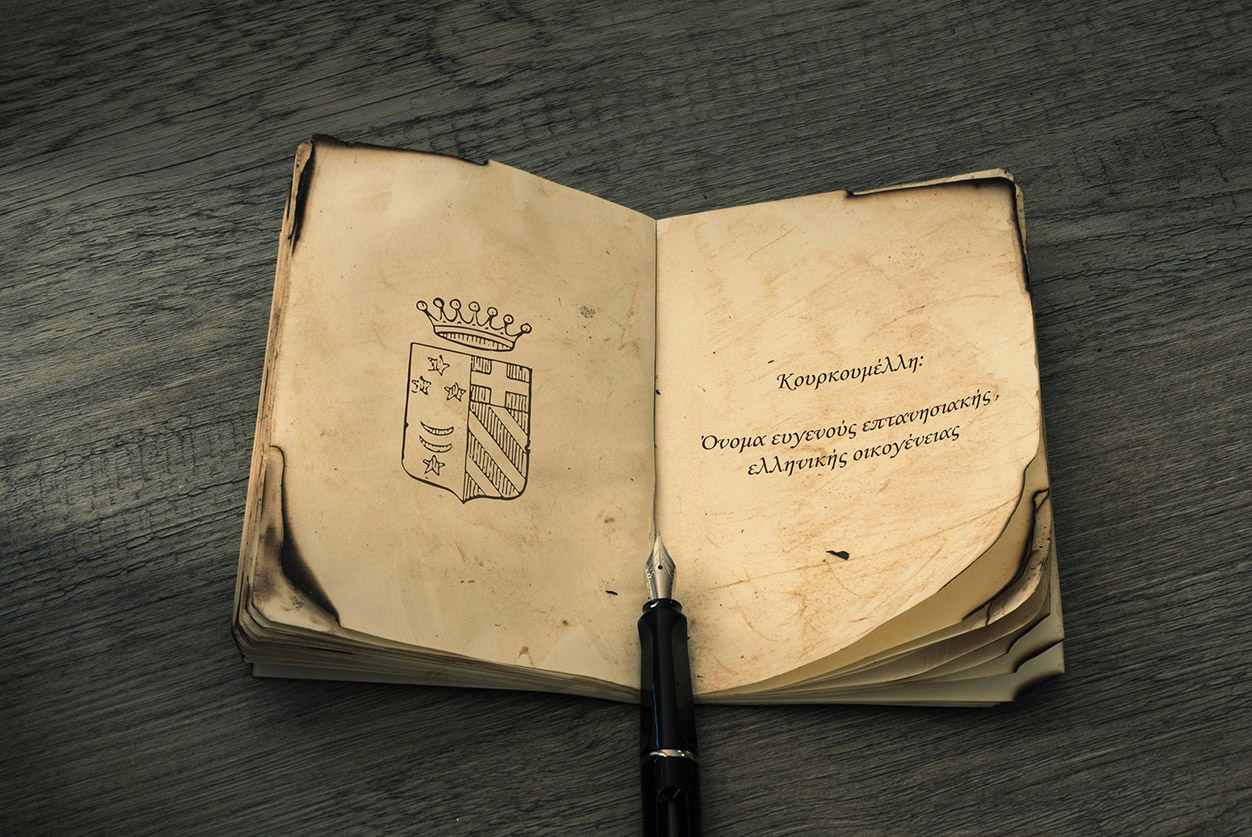 In mid-16th century, the Curcumelli family will be divided into two major branches. One will remain in Kefalonia, to be later distinguished for their close relations with the Orthodox Church and their inscription in the Libro d' Oro, the Golden Book of Nobility. The other branch migrates to Corfu, where they establish close ties with the local aristocracy of the island and develop into an important lobby of the government to the history of the island.
Ioannis Curcumelli has been the first of the family to settle in Corfu in 1750 in the village of Afra. Impressed by the local beauty and driven by his love of nature, he lived there for the rest of his life, establishing the Curcumelli Estate among a vast area of olive trees, cypresses and palm trees.
The generations that followed continued his work, creating a majestic Corfiot mansion.
An architectural gem of mixed British and Venetian style. The surrounding landscape, the unique architectural design as well as the Ionian school paintings of great value that decorated it, gave a unique sense of luxury, finesse and rare beauty. Elements that made the Curcumelli Estate a dominant residence not only for Corfu, but also throughout Greece.
Rodostamo Curcumelli, grandson of Ioannis, personally supervised the construction of the Curcumelli Mansion from the first moment. His love of nature and the need for moments of calm and privacy were the main source of his vision for the creation of a 'true paradise on earth' that would turn out to be a reference point for the family's history and the generations to follow.
For fourteen generations and three centuries, the Curcumelli family has left its mark on the history and culture of Corfu.
Today, the Curcumelli family carries on the vision of the previous generations, having made a significant investment on their beloved Corfu, with the creation of Curcumelli Luxury Suites.